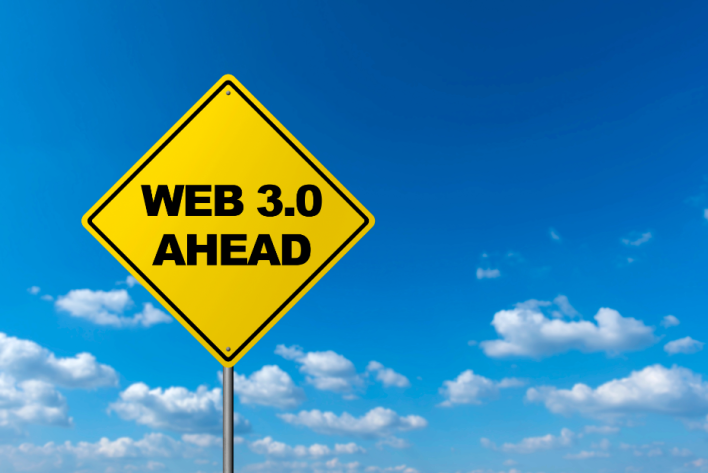 Is Web3 Worth the Buzz?
At the beginning of this new year, it's near impossible to go online without seeing some mention of Web3, mentions well-distributed across the positive-negative spectrum. All this talk begs the question: What exactly is Web3, and why is there so much buzz about it?
A successor of Web 1.0 (1991-2004) and Web 2.0 (2004-present), the term itself first found footing in 2014, when Ethereum founder Gavin Wood dubbed it a "decentralized online ecosystem based on blockchain" (a digital ledger in which data is stored in "blocks" of information, including previous blocks' hash, transaction data, and timestamps). However, the concept of Web3 did not take off until 2021, contemporaneous with the surge in popularity of non-fungible tokens (NFTs). While also an exchangeable unit whose data is stored in the blockchain, NFTs differ from crypto in that each token has a unique identity and is thus non-interchangeable. Similarly, however, the rights and power of both crypto and NFTs are legally ambiguous.
Though NFTs are believed by a swiftly growing population to be the future of art collecting, monetary speculation, and more, there is a comparably large counter-population—those who believe that NFTs are no more than a means by which to flaunt one's fortune, foundations for Ponzi schemes, or funnels into precarious speculative bubbles. These concerns, if proven down the road to be true of NFTs, may spell for them a fate similar to that of the special-purpose acquisition company (SPAC) frenzy of 2020-2021, which has notably died down one year later.
With the Web3 definition now under our belts, we can proceed to the paramount question: What's the big deal? Simply put, it is the next stage of digital technologies and opens up a host of possibilities in the realms of data science, artificial intelligence, apps, and general user access to services and content. Moreover and arguably more trailblazing, Web3 enables trust between parties to become inherent to the system of exchanges by expelling the concept of the third party. The elimination of third parties theoretically yields peer-to-peer networks through which information is accessed and exchanged directly between user and user or user and machine. This contrasts from Web 2.0's current centralized platform, as with Web 2.0, the user relies on nodes of servers to accomplish their virtual tasks and to acquire desired information. The result is, as Max Mersch and Richard Muirhead of Fabric Ventures detail, "a composable human-centric [and] privacy-preserving computing fabric for the next wave of the web."
Amidst all of this buzz, news of Web3 too falls on cynical ears and critical tongues. Qualms expressed by Web3 contrarians often include concerns about the legitimacy and extent of its decentralization and the deteriorating efficiency of the blockchain computations. Advocates of Web3 laud the distributed trust inherent in a decentralized system—but just how decentralized is the blockchain model, really?
One of the key selling points of this "decentralized" system is that, as mentioned in previous paragraphs, it eliminates the third party—the regulators of the web interface—thus creating a peer-to-peer network. However, critics allege that the idealistic concept of the peer-to-peer network is but a façade for what it really is: a server-to-server network. Mobile devices and even desktop browsers are unfit hosts for the blockchain; realistically speaking, the blockchain cannot wholly live on either of these devices. Even if it could, what is the likelihood of individuals to a) want to and b) have the time and/or skill to run their own servers? It's a burdensome responsibility that even tech professionals don't enjoy carrying. Furthermore, as the blockchain expands, each new transaction calculation takes longer and longer to accomplish. And so, we turn again to remote servers and to those with the ability to use this as a business opportunity. We're seeing this now with companies like Alchemy; they become the general public's go-to for accessing the blockchain by concentrating efforts on that specialization. The centralized platform will always rise again in one form or another, as centralized systems are generally more efficient. It is therefore difficult to regard Web3's promise of decentralization without some level of skepticism; the feasibility of such decentralization varies greatly in theory versus in practice.
When it comes to a widespread blockchain platform, true decentralization may in fact be a lesser problem. On a more fundamental level, blockchain networks are not sufficiently scalable to accommodate the would-be drastic increase of users that would accompany the dissemination of Web3. Stephen Diehl argues that the blockchain, in its attempt to solve the problems for which it was created, runs into three technical problems that thwart its functionality: The Compute Problem, The Bandwidth Problem, and The Storage Problem. Each problem can be summarized as the following, respectively: in their attempts to scale, blockchain networks inevitably evolve into versions of their centralized counterparts; blockchain networks are far more expensive and less efficient than centralized models; and the question of "Who owns our data?" remains to be answered. Moreover, Web3's usurpation of Web 2.0 is stunted by its excessively complex user experience of exchanging and storing tokens, which slows down adoption by the mainstream users. The potential for Web3 to become the new standard is certainly there, but the road that lies ahead is bumpy and will require a more user experience-focused approach.
Though we are more circumspect than a number of commentators on this subject, we are keeping a sharp eye on this rapidly developing area, particularly on blockchain development and the capabilities it opens up—if successful—in the fields of art, gaming, finance, and beyond. Whether or not the future of the web is rooted in seemingly inescapable centralization or pioneering broad decentralization, we are certain of one thing: Web3 is the focus of innovative efforts at the beginning of this new decade and will generate inevitable changes to our tech ecosystem!
To keep in touch with the latest Web3 news, we recommend you follow Shaan Puri's newsletter The Milk Road—always a fun and instructive read!